Attract The Career You Want And Deserve
...And Unleash Your Full Potential
Sign up and get my best tips to help you begin attracting new and better career opportunities based on your strongest skills, talents, and passion.
Start Preparing For The Future Job Market Now
Things are moving as fast as ever and it's not going to slow down. In many ways, the future job market is already here. Just a few months ago a convoy of driverless trucks drove across Denmark from Padborg in Germany to Malmö in Sweden. Similar tests are going on in different places around the World.
There is no doubt we are seeing the end of some types of jobs, but then, others are being created. That's why I invited Future Analyst Henrik Good Hovgaard from Future Navigator, to sit down to talk about the future job market, what we can expect from it and how to prepare for it.
If you want to know what you can do to prepare for the future job market, and how career branding can play an active role in your future career, then you don't want to miss this interview!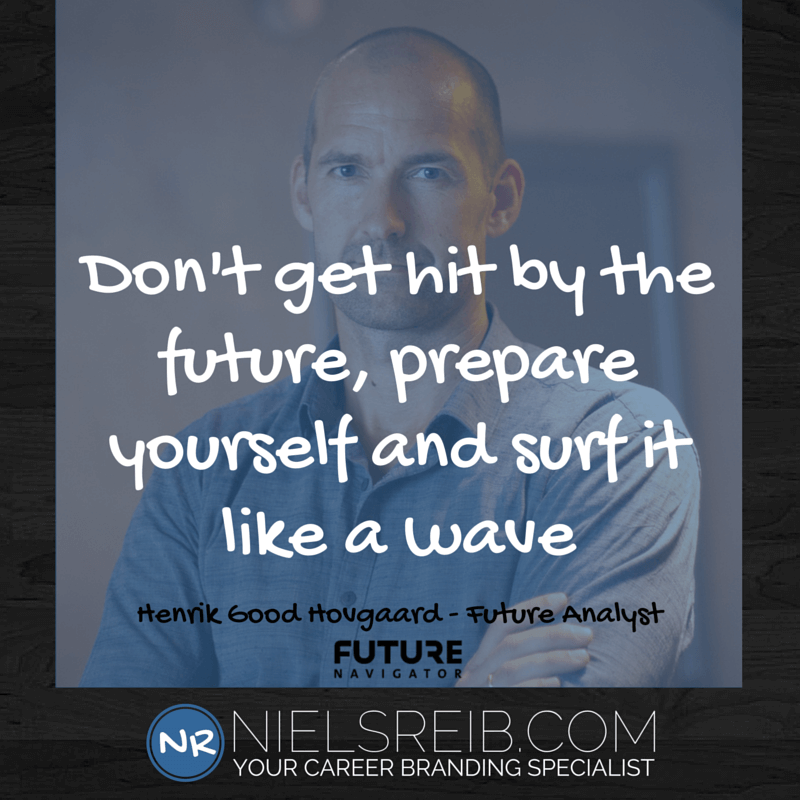 ---
RECEIVE FREE CAREER BRANDING UPDATES
---
This Is What We Can Expect From The Future Job Market
Automation of our industries began in the late sixties and early seventies, and it has been going on ever since. Today many factories are fully automated, with only a handful of employees trained to master the high-tech machinery.
And automation is not only something the industrial world has taken in. Today journalist (or versionist as Henrik Good Hovgaard prefers to call them, because many of them just write different versions of what everybody else is writing about) can be replaced by robots writing news stories, based on what a computer program finds online and then put it all together into new articles, just like any other human journalist could.
Oxford University has made an extensive study about the future job market. It's an interesting read, for those of you who want to dig in and learn more about what's in store.
In the study, they estimate that around 47% of all US employment, is highly vulnerable and at risk to disappear within the next decade or two.
Our findings thus imply that as technology races ahead, low-skill workers will reallocate to tasks that are non-susceptible to computerisation – i.e., tasks requiring creative and social intelligence. For workers to win the race, however, they will have to acquire creative and social skills.
Prepare For The Future Job Market
Future Analyst Henrik Good Hovgaard is Partner at Danish based Future Navigator. Henrik has specialized in training individuals, companies and organizations in the art of spotting the future trends and create a dynamic vision based on it, to best prepare for the future.
Henrik is the creator of Future Graphic, Zooon, Trend Mapping, Blind Spotting, and much more. Download Future Navigators App 'Trend Navigator' on your Phone, to train your futurist mindset and future opportunities.
With the fast changing job market, I thought it would interesting to hear about some of the hard and soft trends that are emerging, so you and I can be prepared for the things the future job market will present to us.
Henrik Good Hovgaard On The Future Job Market
---
---

I'm really happy that you want to sign up and receive my free weekly career branding updates.

Soon you will begin to attract the career you want and deserve.
Old vs. New
Since the financial crisis, we've seen a tendency, that more companies are hiring people on the shortest terms possible. Which makes sense from a business perspective, but as a result, job security for employees is part of history now.
We believe part-time jobs will continue to increase
as business look for flexibility in managing costs and overall uncertainty.
So in order to regain some of that security, employees need to rethink their situation and the possibilities that are out there today. And then come up with new ways of securing their income.
The industrial way of thinking and having just one income stream with that 9 to 5 job, is something the new technology/ knowledge age is challenging. We are seeing a lot more people doing freelance work and the ways you can set yourself up to have diversified income streams is expanding rapidly.
With companies like Uber, websites like Fiverr, 99designs, udemy, and the expanding industry of VA's (virtual assistants), there are now more ways than ever, to create multiple income streams.
Today you can be a dog walker in the morning. Then during the day, you can create online courses about something you're passionate about, upload it to Udemy, and make money selling it while you sleep. And then you can drive an Uber cap in the evening. Those are just three ways of having a diversified income stream and there's much more.
With this way of thinking multiple income streams, you can actually end up earning more and not be as vulnerable, if should you loose one of your income streams.
Because of technology, we will also see a lot more digital nomads. People working together online in teams, from different places around the world. So today you could actually choose to see the entire world, as the place you go to work. It's "only" a click away.
High-Tech to High-Touch
As technology is becoming more and more integrated into everything we do, our human and social need for interacting face-to-face, will be much more in demand in the future.
That's why, according to Henrik Good Hovgaard and the Oxford Study, jobs that rely on people skills, will be in high demand.
Jobs Disappear Others Are Created – Hire a Pro Cuddler
Jobs that will be in demand in the High-Touch category will be jobs like doctors, nurses, kindergarten/ teachers/trainers and most likely some new kind of jobs, we don't even know of today. One thing that has been in the media within the last couple of months is professional cuddling. Who would have thought of that as a profession 10 years ago?
If you're single and don't have someone to cuddle with on a Sunday, like you would with a partner, you hire a cuddler to get your need for intimacy covered. In case, you're curious to know more, visit thesnugglebuddies.com.
That's just one example of a new kind of need, that have shown up because of the High-Tech living and the entire single-living situation that is on a rise.
Some Skills The Future Job Market Will Demand
I've already covered a little about having people skills, as an area where there will be a demand in the future. But here's a list of other skills you can start fine tuning to prepare for the future job market as well.
Listen Louder!
If we were supposed to talk more than we listen,
we would have two tongues and one ear.
– Mark Twain
A lot of people don't listen with the intent of understanding other people. That's probably because we're schooled to listen with the intent of answering or defending ourselves. But when we do that, we tend not to hear what other people are actually saying.
That's why listening louder is all about really listening and giving people room to explain themselves and really trying to understand, not only what they are saying, but also listen for the things not being said.
In the interview, we talked a lot about this particular skill. If you master this, then it can be used in a ton of ways to improve your future job opportunities. So give it a listen (if you haven't already done it), because Henrik dropped some pretty great advice on this topic.
When really listening to what other people are saying, you'll also be better at spotting trends and creating the right solutions to suit the needs of others. But you need to learn to listen louder.
According to Future Navigator being a good listener requires these four things:
Stop talking
Challenge the mental model – the perspective, program, or paradigm
Listen for meaningfulness
See the bigger picture
Add two basic human traits to that:
Trust
Presence/availability
You can download the free e-book version of Future Navigators 'Don't be a Bore – Explore' right here. In that, there is an entire chapter about listening louder.
Visibility
Being able to show the world what kind of value you bring to the table, will be an important skill to master in the future.
In the not too distant future, half of the population on the job market will be millennials and born in the digital age. They are used to sharing their life online with their friends, and they will continue to do that. But as they enter the job market, they will be sharing their career achievements online as well. It'll be as natural for them to do because they are used to displaying the rest of their life online.
Here Career Branding comes into play, as a great way for you to share what you are passionate about, and the value you create. Stepping up and taking ownership of your career brand will help you get the career you want and deserve in the future.
Sharing your knowledge through career branding, will help you attract like-minded people to your network and the mailing list on your website. Having these followers on your mailing list can become very valuable for your future employers as well. Because they get a direct line to all your followers, who you've already established a relationship with, through the content on your career website.
Crafting Skills
Even though technology is becoming more and more dominant, the need for good craftsmanship will still be in demand. Maybe not in the way we think of craftsmanship today, but being able to use your hands and creating things is something Henrik believe won't go away.
Lifelong Training
According to Future Navigator, we will be moving from learning to training, with training being a more hands-on action based version of learning, where you have a specific skill you want to master. Your education will matter less in the future, whereas your ability to lifelong training, will be a skill in demand.
Start reading books and download the Trend Navigator to begin to look for the trends in your industry, and then begin to train the skills you feel would make sense for you to strengthen, in order to ride the waves of the future job market.

I'm really happy that you want to sign up and receive my free weekly career branding updates.

Soon you will begin to attract the career you want and deserve.
There is no doubt we're living in a time of fast technological changes, and a new world of opportunities and possibilities. So it's all up to us to listen louder and find the trends and needs that are coming. Then train the skills necessary to be able to match, connect and deliver all that to the world, so we can create a successful career in the future job market.
Check-out the list of all the "21st. century skills"
Here you've got a few additional links you might find helpful:
Take this assessment, made by the Harvard Business Review, to figure out if you need to be worried about the changes in the future job market, or not.
The online recruiting company Hireology have made an interesting hiring forecast. There you can read about the hiring trends for 2016. You can download their forecast here.
You can get a few tips on how to transition from a 9 to 5 job to a Freelance career in this article.
If you want to know more about how to be a better listener, then you get 10 steps to becoming a better listener right here.
If you've enjoyed this article, then be awesome and share it with your cool friends ?
I would love for you to post your thoughts on the future job market, in the comments below.
Please leave your take away in the comments below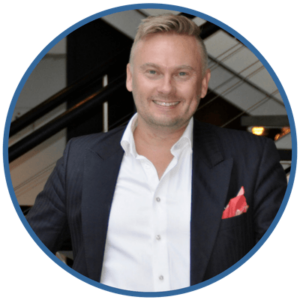 Free Email Course
No matter how your professional online presence is today, then I can help you take the next steps necessary building your career brand, so you can begin to attract more and better job opportunities based on your strongest skills, natural talents, and professional passion.
Just sign up and enroll in my free email course at the level matching your needs. Whether it's as a newbie with out a professional online presence, you 're on LinkedIn but doesn't know how to leverage your presence there, or you want to take your career brand to the highest level and get the ultimate career branding benefits.
I've got you covered!
What Is Your Take Away And First Action Going to Be?