Attract The Career You Want And Deserve
...And Unleash Your Full Potential
Sign up and get my best tips to help you begin attracting new and better career opportunities based on your strongest skills, talents, and passion.
Personal Career Brand Strategy
The Reason You Need One
You might be sitting there thinking; why do I need a brand strategy? I'm an employee, not an entrepreneur or a big corporation…
But here's the thing.
Having a brand isn't just for entrepreneurs and big corporations. Today every one of us has a brand, whether we like it or not.
The birth of social media have changed the way the World sees you
As a result of today's online world, we all have a personal brand based on the footprints we leave on social media and commenting on blogs, etc. We constantly share our lives and personality online through posts, comments, and pictures.
All that put together create your online identity, and with that your online reputation. Which is your career brand!
---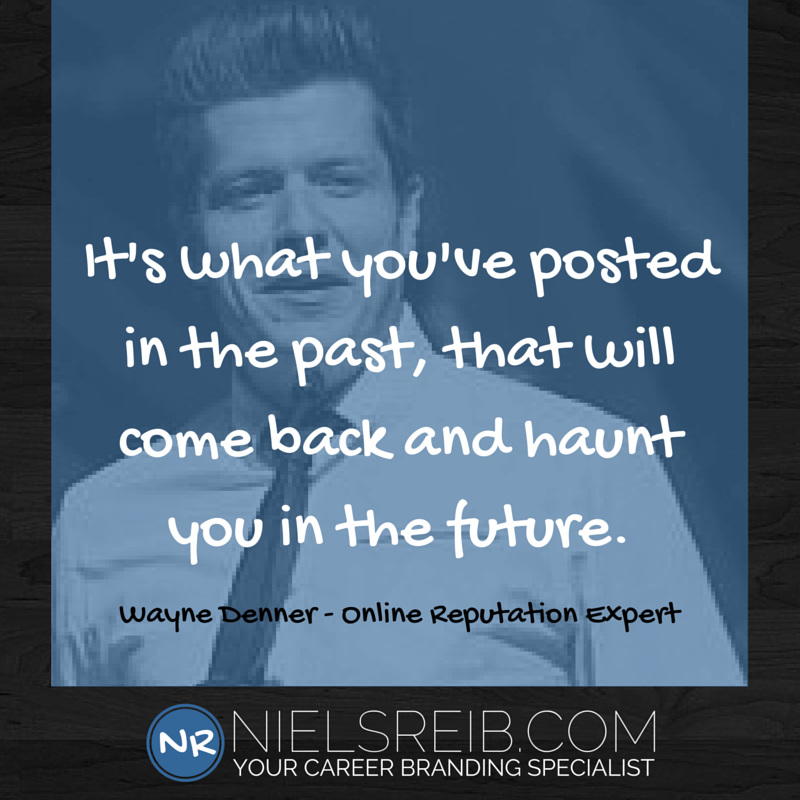 ---
RECEIVE FREE CAREER BRANDING UPDATES
---
When Is The Last Time You've Googled Yourself?
Today Google can be either your promoter or an opponent of the worst kind. One you don't want to fight. Especially if you're in a situation, where you're in the market for a new job.
93% of recruiters admit using social media as part of their screening process when they look at potential applicants. And if your online reputation isn't good, then you're most likely not getting the job. Because 63% of the recruiters will throw your application in the trash, if they find something online, that doesn't match their expectations from reading your resumé.
I don't know about you. But I've seen some pretty unfortunate cases of people posting things online, in the heat of the moment. Not thinking about the consequences, it could have for them later on.
I've received e-mails from people who were so frustrated with their situation because they had a really hard time landing their dream job. But let me just say, it didn't take me much more than a single Google search, before it was very clear to me, why potential employers turned their back on the applicant.
Since recruiters have started using social media to screen applicants, it's just made it even more crucial for you, to be aware of the kind of content you share and comment on, when you are online.
Because everything you do leaves a digital footprint for a recruiter or future employer to find.
Watch or listen to the interview I did with online reputation expert Wayne Denner here.
Your Personal Career Brand Strategy
Having a brand strategy for your career brand will help you stay on your brand as you begin to build and strengthen your online presence. By staying on your brand, you're not going to send mixed signals to your network, potential followers, recruiters, and employers.
They are going to know you as someone they can count on when it comes to your niche/ field.
Career Brand Strategy Breakdown
The why
…in your career brand strategy, is all about what drives you, your mission or goals! This is what makes others feel the passion you've got, for the things you do. This is what makes you unique as a person, and a colleague.
The what
…in your career brand strategy, is about what you want others to be relating you and your name to. This is where you define your message and the kind of content/niche you want to be known for.
The who
…in your career brand strategy, is about the audience you want to reach with your content. This could be leaders within your industry or recruiters for the companies you want to work for.
The where
…in your Career Brand Strategy, is about using the right platforms to get you in front of the right people, so you can attract the best opportunities, by sharing your knowledge on those platforms.
The how
…in your Career Brand Strategy, is the way you want to create your content. Do you want to make short videos, interviews, podcasts, blog posts, use pictures and so on.
(All this work, and much more, are included in my 1-on-1 career branding mentorship program, where we'll be working on and creating your career brand together if you apply for the program)
3 Reasons You Should Have a Career Brand Strategy
1. You will be taking more ownership of your brand
Just by doing the exercise of creating your career brand strategy, will make you take more ownership of your online presence, which will impact your online reputation in a way that makes you stand out.
2. You don't want to send mixed signals and confuse a future employer
Having a career brand strategy will make it easier for you to be consistent in the way you communicate when you're online. It'll make you think before you post comments, share pictures, etc.
3. You want to attract more and better career opportunities
Having your career brand strategy down will also help you attract more and better future career opportunities, which will enhance your job security.
Create Positive Content Around Your Career Interests
The thing that should be the backbone of your career brand strategy is to consistently be creating positive content around your career interests and passions.
Before you even begin to think the thought; I don't have much to write about, I'm not that passionate.
Let me just tell you it's not true. Because what's obvious to you, might be amazing to others!
What's obvious to you, might be amazing to others
So don't hold back sharing the things you know. Because, I'm pretty sure the things you know, will be amazing for others out there to know, as well.
Your content can be anything from commenting on what's going on in the industry you're in, writing book reviews on industry and career-related topics, and sharing your personal view and know-how, about whatever it is you do.
Different Platforms For Different Content
The best place to share your positive content would be from your personal career website/www.yourname.com. There you are in complete control and own everything you put on there.
That's not the case when we turn to the social media platforms like LinkedIn, Facebook, Twitter, etc. There you're not in control, your account can get shut down, and you don't own anything you share on there.
Choosing your go-to social media platform, very much depends on what it is you do. For someone in marketing or sales, I'd probably say the most obvious place you need to be sharing positive content, would be on LinkedIn.
But if you're working in a more artistic/creative field, then Instagram or Pinterest would probably be pretty good places for you to share your content.
The most important thing is, that everything you do on social media refer back to your personal career website and homebase.
---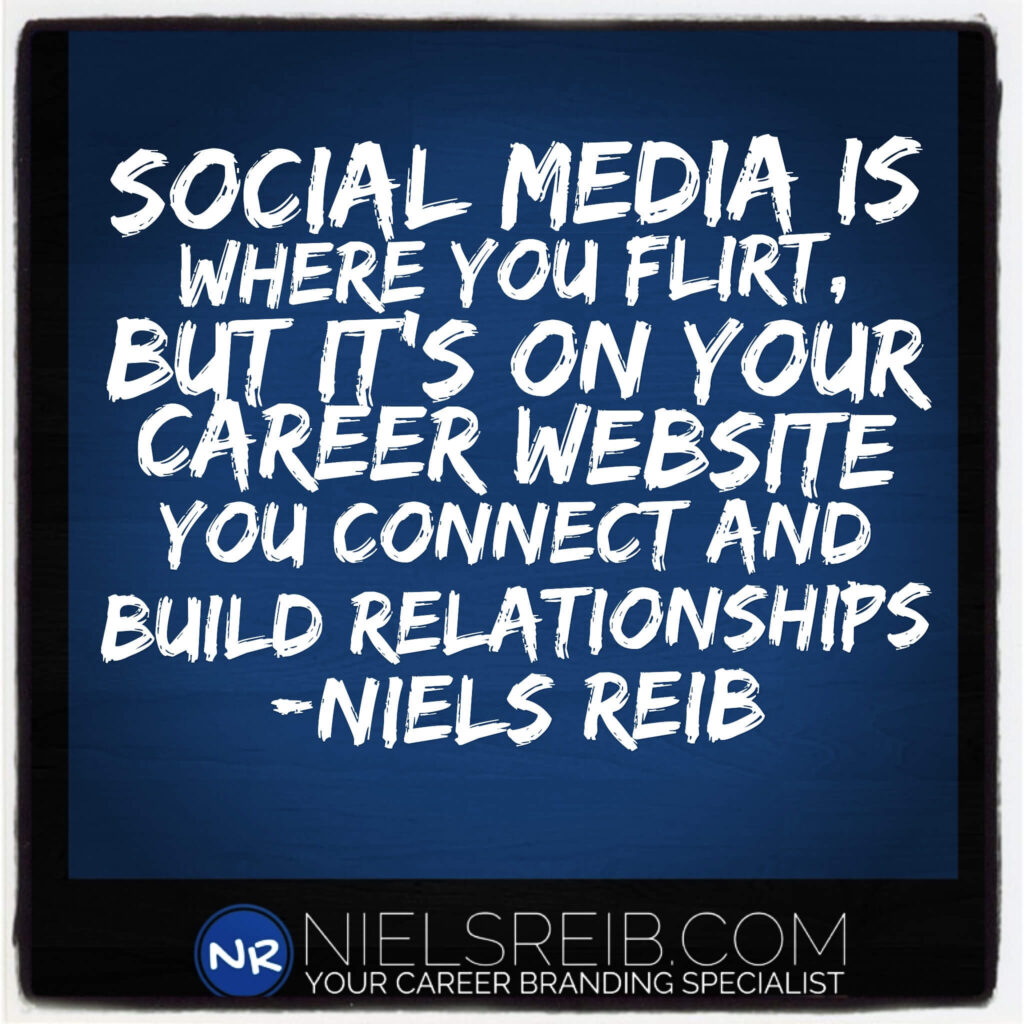 ---
To it sum up
The reason it's a good idea to think about having a career brand strategy is that it will help you to stay on brand and course with your brand message. You're not going to find yourself going in an unintended direction, that could confuse your main audience and target group if you take the time to think about these things from the get-go.
So invest some time to get your career brand strategy lined up, before you go out and brand the heck out yourself.
Feel free to share this post with your awesome friends 😀
Follow Niels on Twitter, Facebook and LinkedIn
Please leave your take away in the comments below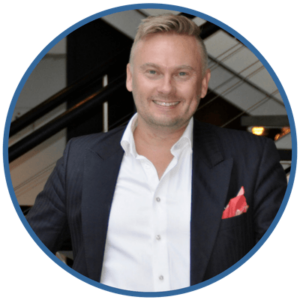 Free Email Course
No matter how your professional online presence is today, then I can help you take the next steps necessary building your career brand, so you can begin to attract more and better job opportunities based on your strongest skills, natural talents, and professional passion.
Just sign up and enroll in my free email course at the level matching your needs. Whether it's as a newbie with out a professional online presence, you 're on LinkedIn but doesn't know how to leverage your presence there, or you want to take your career brand to the highest level and get the ultimate career branding benefits.
I've got you covered!
What Is Your Take Away And First Action Going to Be?