Zero Lives Left Podcast Interview With Niels Reib
In the interview you can hear why Career Branding is something everyone should be doing, as a way to regain job security and attract more and better career opportunities and get the career you dream of.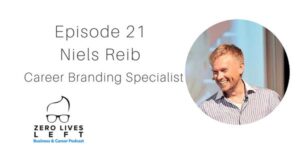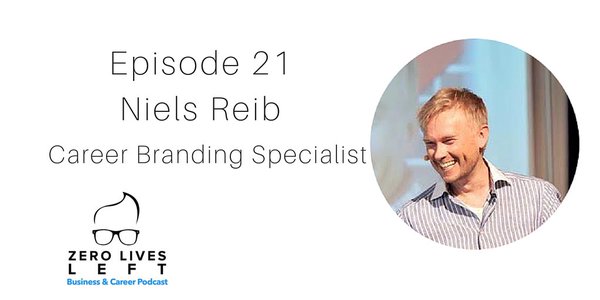 It was an honor to getting an invite to be a guest on the Zero Lives Left Business and Career Podcast to talk about Career Branding and the necessity of having a career brand in today's job market.
Get My Top 5 tips…
.. on what it takes to have an effective LinkedIn profile, as well as a little background story of why I do what I do, and why it's so important for me to help you attract the career you want and deserve through
career branding.
Comments on the Episode
Packed full of Top #CareerBranding Tips from the Boss @NielsReib ?? https://t.co/XqhcV6nVP5

— ZeroLivesLeft (@ZeroLivesLeft) 1. april 2016
Drinking coffee & having a listen to @ZeroLivesLeft latest podcast this morning with @NielsReib on #careerbranding – interesting insights!
— Laura Dunn (@lauradunnonline) 8. april 2016
@NielsReib @ZeroLivesLeft loved what you said about the career value proposition is like making a red wine sauce, keep tasting and tweaking

— Laura Dunn (@lauradunnonline) 8. april 2016
"Talk about what you know – what's obvious to you might be amazing to others" – @NielsReib@ZeroLivesLeft@lauradunnonline#careerbranding
— Tony Lopes (@tonylopeswrites) 8. april 2016
If you liked this, then drop your name and best email in the field below, then I'll send more career and productivity tips straight to your inbox.
Get productivity and career inspiration in your inbox starting today.
Step 1
Schedule A Video Call
Get together with Niels, and discuss your career, your plans, and where you'd like to go next.
Step 2
A Strategy & Plan To Follow
Working with Niels, you'll get guidance and expertise to help you get the career you dream of.
Step 3
Get Longlasting Results
Having an authentic brand will help you attract the best career opportunities for years to come!.
Or… Schedule A Video Call Today
If you find working from home challenging, then book a session and let's set you up for success.
Want all my best tips and help to get used to this new situation minimizing distractions and improving your productivity?
Book your time today and start implementing new work strategies this week.
You Might Also Like These