Succeed On LinkedIn By Scheduling These LinkedIn Activities
Like with any other social media platform, being on LinkedIn can be time-consuming. And you probably know you should be doing more about your LinkedIn activities, but you don't have the time. But it doesn't have to be that way. Here I'll give you a few strategies to help you succeed, by scheduling your LinkedIn activities.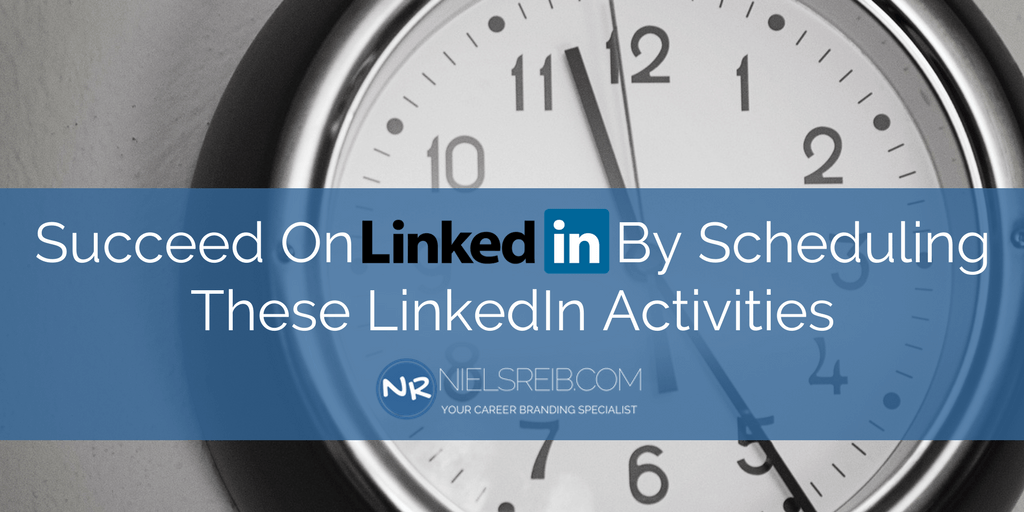 ---
RECEIVE FREE CAREER BRANDING UPDATES
---
In a life where we tend to get bombarded and distracted by emails and notifications from different apps, it's important to be intentional about how to spend your time. Like any other thing you want to improve, you need to prioritize and schedule activities that can help you succeed. It's the same when it comes to succeeding with your LinkedIn presence and building your professional network and profile.
These are my suggestions to help you succeed, with your LinkedIn activities.
Daily LinkedIn Activities (15 to 30 minutes)
Checking in on LinkedIn daily to stay on top of what's going on in your network is always a good idea, as long as it doesn't end up stealing precious time from being productive and doing other more important activities.
Schedule to spend 15 to 30 minutes for your LinkedIn activities once a day on your calendar. It could be in the morning on your commute to work, at lunchtime, or at the end of your workday.
Daily activities:
Check your LinkedIn inbox
Check for new invitations to connect
Share and comment on updates
---
Weekly LinkedIn Activities (25 to 45 minutes)
These weekly actions are more of a relationship building character, which is why you should set aside a little more time. Since LinkedIn is all about building your professional network and networking, it's important to make time to develop and nurse your relationships.
That's why I suggest you spend some time every week to engage in a few of the many groups on LinkedIn. It's a great way to interact with people you're not yet connected to and therefore an efficient way to grow your professional network. It's also the time of the week where you can spend some time to reach out to your connections and touch base to find out if there's anything you can do to help.
Weekly activities:
Check what's going on in the groups you're a member of and provide value
Follow up with people in your network to build relationships
---
Monthly LinkedIn Activities (45+ minutes)
One activity that will help create a more substantial profile on LinkedIn is to write blog posts. And since it is a more time-consuming activity, I suggest you do it on a monthly basis.
The great thing about investing time into writing blog post on LinkedIn is that it adds to your professional profile. Showing that increased engagement makes you stand out from other professionals in your industry as well.
Monthly Activity:
---
When you choose to schedule these LinkedIn activities on your calendar, you don't let the platform get the better of your valuable time. It helps you stay focused and productive in other areas as well as it helps you build your LinkedIn presence.
Is LinkedIn an active part of your professional online career profile?
Let me know😊
What Is Your Take Away And First Action Going to Be?
Free Email Course
No matter how your professional online presence is today, then I can help you take the next steps necessary building your career brand, so you can begin to attract more and better job opportunities based on your strongest skills, natural talents, and professional passion.
Just sign up and enroll in my free email course at the level matching your needs. Whether it's as a newbie without a professional online presence, you 're on LinkedIn but doesn't know how to leverage your presence there, or you want to take your career brand to the highest level and get the ultimate career branding benefits.
I've got you covered!