How To Use LinkedIn When Looking For A New Job
LinkedIn is THE platform to be on if you're looking for something new to do professionally. In this post, I'll share how you can get the most out of your profile and use LinkedIn when looking for a new job.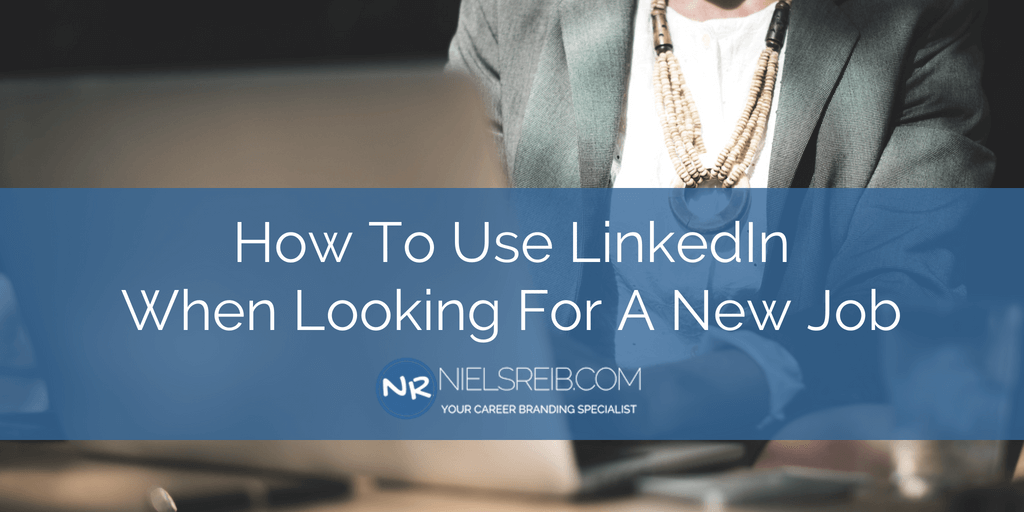 ---
RECEIVE FREE CAREER BRANDING UPDATES
---
Why You Should Use LinkedIn When Looking For A New Job
LinkedIn is the World's largest professional networking platform which makes it the go-to tool for most recruiters, headhunters, and other hiring professionals when they are looking for new talent and filling open positions. Which, of course, makes it the place to be visible and actively use when you're looking for a new job.
But, like everything else, you need to put some work into your LinkedIn profile if you want to leverage your presence and get attention from hiring professionals.
How To Use LinkedIn When Looking For A New Job
There are a few things you can to that will help you get in front of hiring professionals, and I'll share some of the most effective once with you right here.
Optimize Your Profile With Relevant Keywords
The first thing you want to do is to make sure your profile is complete, up to date, and keyword optimized.
You should focus on 5 to 7 of your strongest skills and use those as your keywords throughout your entire profile. Completed and optimized profiles rank higher than those that aren't. You also want to make sure your profile is up to date when hiring professionals are stopping by and viewing your profile.
Create a Professional Headline
Having a catchy headline will drive more visitors to your profile. I see way too many people missing out on this simple yet very effective task.
Your headline could be a list of your keywords or your professional value proposition which also should include a few of your keywords since it'll increase your chances of being discovered.
Write a Compelling Summary
In your summary, you want to focus on who you are, why you do what you do and how you bring value to the things you do.
You can also list your strongest skill, and even share a story about how you use them to create results.
Get Recommendations On Your Profile
Getting recommendations from co-workers, clients, and other people you've worked with will serve as social proof that you're the real deal.
When you ask for recommendations, it can be helpful to the people you ask if you request that it's on a specific project or skill.
Let Hiring Professionals Know You're Open To New Things
Linking up with hiring professionals can be beneficial if you're on the lookout for new career opportunities, but it might also catch the attention of your current employer if they are using LinkedIn as well.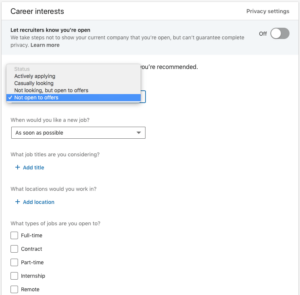 So, fortunately, there are ways for you to fly under the radar if you currently hold a position but want new challenges.
LinkedIn has a feature that let hiring professionals know you're open to new opportunities without having to announce anything on your profile.
When you go to jobs on the top menu on your page, you can click career interests. There you can choose to let recruiters and hiring professionals, that use LinkedIn's recruiting solution, know that you're looking for new opportunities.
You provide what type of position, location, industry, and the size of the company you prefer working for, regarding the number of employees.
There you have it!
Five easy steps to use LinkedIn when looking for a new job.
Final Thoughts
LinkedIn is such a significant player in today's job market when it comes to career opportunities, which is why having an optimized profile and active presence can help you not only find your next job but also build valuable professional relationships with people from all over the world.
If you want to know more about how to leverage your LinkedIn profile and presence, then check out my free email course or get 'The Ulitmate Career Branding Action Guide' that'll take you through a 22 step process to help you build your authentic online career brand and LinkedIn presence.
Please leave your take away in the comments below and SHARE the post with your friends👍🏻
Free Email Course
No matter how your professional online presence is today, then I can help you take the next steps necessary building your career brand, so you can begin to attract more and better job opportunities based on your strongest skills, natural talents, and professional passion.
Just sign up and enroll in my free email course at the level matching your needs. Whether it's as a newbie without a professional online presence, you 're on LinkedIn but doesn't know how to leverage your presence there, or you want to take your career brand to the highest level and get the ultimate career branding benefits.
I've got you covered!