Attract The Career You Want And Deserve
...And Unleash Your Full Potential
Sign up and get my best tips to help you begin attracting new and better career opportunities based on your strongest skills, talents, and passion.
LinkedIn Is The Best Place To Build A Career Brand, Right?
Wrong!
Let Me Tell You Why
I bet you've heard from everyone that you should be on LinkedIn as a professional, I've said it multiple times myself. But, I'm also one of the few that will tell you not to build a career brand and rely on a platform like LinkedIn.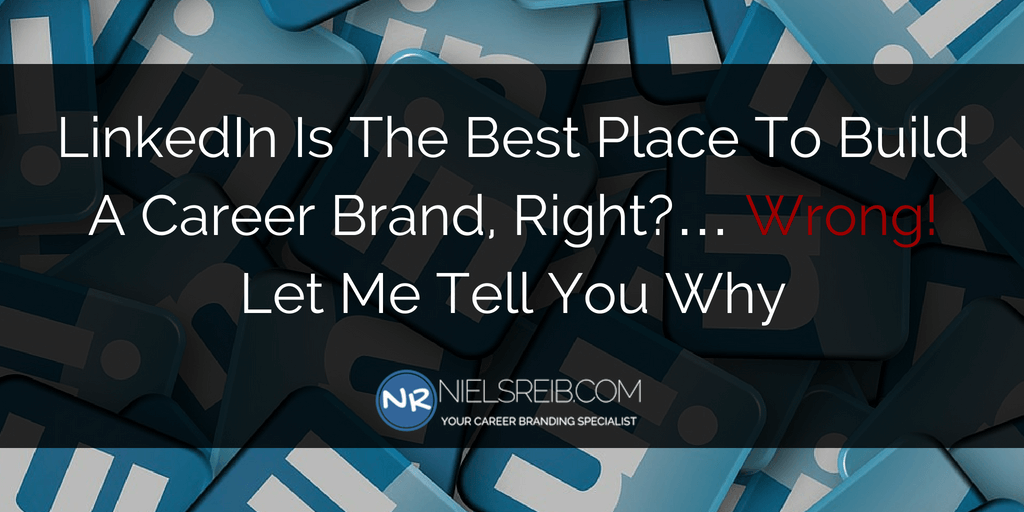 ---
GET FREE CAREER BRANDING TIPS
---
If you want to have a decent professional online presence you should at least have a fully optimized LinkedIn profile. LinkedIn has positioned themselves as the number one go-to tool for companies and recruiters looking for new employees and talent.
That alone should be reason enough for you to level up your LinkedIn presence. Don't just use your profile as a placeholder of your online resume. Optimize your profile and start attracting more visitors and career opportunities. LinkedIn should be much more than a placeholder of your professional profile. Dive into the platform and discover all the great networking and career opportunities offer.
If you're feeling overwhelmed by having to understand yet another social platform? Then check out the 'Get Noticed! On LinkedIn' online course. It'll guide you through the entire profile step by step and help you optimize it as well as give you networking and branding tips you can put to use right away.

My Numero Uno Platform
LinkedIn is my number one platform when it comes to connecting with other professionals from around the World. Besides that, it's also a great place to keep up with industry leaders and companies on a global scale.
To be honest, LinkedIn does give you a bunch of great reasons to build a career brand on their platform. Besides all the obvious networking opportunities you've got by joining some of the millions of different industry/ interest related groups on there, there's also the chances of a new employer or recruiter pitching a new job to you, and you can also blog and build an archive of your personal blog posts as well.
So you might sit there and be thinking; why isn't it the best place to build a career brand then? It sounds like LinkedIn has everything and it has, except for one thing. I want you to consider this missing piece if you're serious about your online career brand and presence.
Remember MySpace? Now it's happening to Vine
I know it's been years since MySpace was the place to be online, today I don't know anybody who is on there.
Twitter is killing off its social media video-sharing app and platform Vine as it trims its headcount and costs. The social network said the Vine mobile app would be discontinued "in the coming months".
– The Guardian – Thursday 27 October 2016
Just a few weeks ago Twitter announced that they would shut down Vine at the beginning of next year. That means users no longer will be able to upload new content to the platform.
---
Need help to build your career brand? Sign up for my free email course below.
---
You see where I'm going with this?
Well, I think you might.
As I see it, the problem with building a career brand or any other kind of brand for that matter, on social media platforms like LinkedIn, Facebook, Instagram, Twitter or Pinterest is that you don't have any control of the content you create and you don't own it. The platform does.
Which is why I do not believe LinkedIn is the best place to build a career brand. Simply because you're not in control and you don't know where or what LinkedIn will be in 5 to 10 years from now.
That's why I, as one of very few, recommend you not to put all of your career eggs in the LinkedIn basket if you are professional and serious about building and creating your career brand.
The Best Place To Build A Career Brand
Let's get to it.
Are you serious about your career and online presence?
Then don't leave it to chance by building a career brand on a social media platform. There is only one solution if you want to build a sustainable online career brand and have complete ownership of your brand.
You need your personal career blog and website
That is the only way you'll be in charge and own the content you create. Stop spreading all your valuable content on other platforms than your own, or at least refer to your website whenever you share your content on LinkedIn, Instagram or Facebook.
93% of recruiters scan Google and social media profiles when they research candidates. It shows that it's becoming increasingly important to have and maintain a certain level of online presence and career brand. That's why creating a home base for your career brand, by setting up a website in your name, is by far the best way to build a lasting career brand.
Using your personal platform as a home base to create and share content based on your professional passion, and focusing on your best skills will be a powerful way to attract like-minded people to your network and have better career opportunities come your way. You'll even make Google your promotor and have people find you when they search for topics you're creating content around.
If you think about it, there's a lot of advantages to having your career blog and website. The sooner you build your personal online knowledge base, the better off you'll be in the future because of the career opportunities you'll attract through your website.
Please leave your take away in the comments below and SHARE the post with your friends👍🏻
Free Email Course
No matter how your professional online presence is today, then I can help you take the next steps necessary building your career brand, so you can begin to attract more and better job opportunities based on your strongest skills, natural talents, and professional passion.
Just sign up and enroll in my free email course at the level matching your needs. Whether it's as a newbie without a professional online presence, you 're on LinkedIn but doesn't know how to leverage your presence there, or you want to take your career brand to the highest level and get the ultimate career branding benefits.
I've got you covered!