5 Elements of Career Branding
- ...And Why They Are All Important -
To even begin thinking about taking on Career Branding, might seem overwhelming to you. That's why I've made this little overhead with five elements of Career Branding you need to consider before you brand the heck out of it.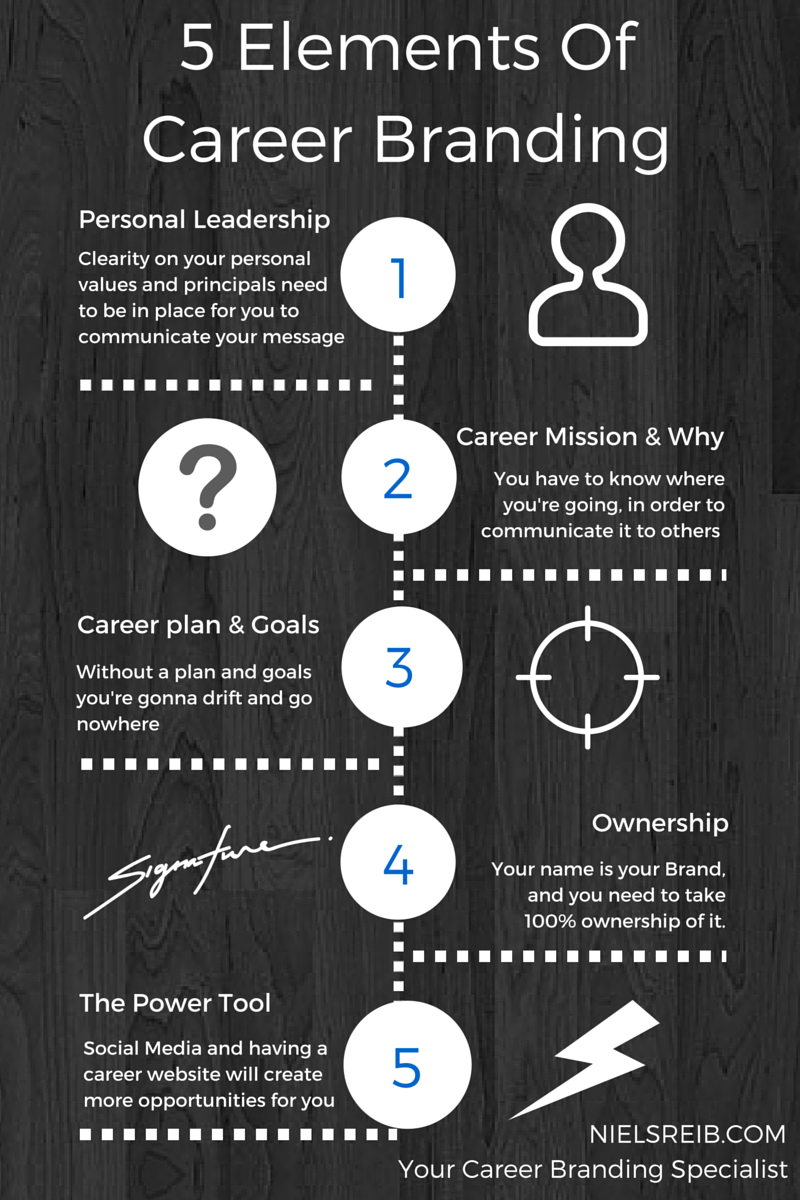 1. Personal Leadership And Clarity
To communicate in an authentic brand voice, I have clients, in my Career Branding Mentorship Program, do an exercise, and this might come as a surprise to you, but the first thing they do is getting clarity on their values and principals.
2. Career Mission And Your WHY
Another great thing to consider and think about is what it is you want to bring to the table and what kind of impact you would want to make with the career you've got ahead of you. Not only that but also, and most importantly, the reason why you want to make that difference.
My Career Mission
My career mission is to help people, like you, to attract and achieve the career you want and deserve based on your values and principals.
My Why
I believe, when we do work that excites and fulfills us, then we are going to be less stressed and able to give more of ourselves to the people and community around us.
3. Career Plan And Goals
Without having plans and goals for your career, you'll most likely just have an average career, floating along where ever the stream will take you.
That's how I used to do. It wasn't until a major life crisis made me realize how important my time here really is, that I started having a heart-centered career and life goals, based on the career mission that unveiled its self to me.
4. Ownership – Your Name = Your Brand
You are what Google and others say about you. That's why Career Branding is all about taking ownership of your name and making sure people get to know the value you bring to the game by being you.
If all that Google shows about you is all your social profiles and people have a hard time figuring out what it is you do, then it's time to take ownership of your name and brand.
5. The Power Tool
Using Social Media channels like LinkedIn to share what you know, is a great way to attract like-minded people to connect with you. But the best power tool you can grab in the toolbox would without a doubt be having your career website, where you blog about the things you're passionate about, your visions for the industry you're in, describing solutions to pain points, share book and article reviews on industry topics and so on.
All you write on your website will add value to the things recruiters and headhunters find about you when they do their google searches. You de
Don't Be a Captain Without a Compass
To sum up, if you start branding without giving thought to the things mentioned above, your branding will be going in all directions, and you'll most likely confuse people more than you'll help them understand what it is you do.
If you're not connected and have a strong sense of your why you're not going to achieve the career goals you've got. Then your career path will be like navigating a boat without a compass, drifting aimlessly out at sea.
If you want more inspiration like this, then drop your name and best email down below, then I'll make sure you get my best career and personal leadership tips in your inbox.
Get productivity and career inspiration in your inbox starting today.
Step 1
Schedule A Video Call
Get together with Niels, and discuss your career, your plans, and where you'd like to go next.
Step 2
A Strategy & Plan To Follow
Working with Niels, you'll get guidance and expertise to help you get the career you dream of.
Step 3
Get Longlasting Results
Having an authentic brand will help you attract the best career opportunities for years to come!.
Or… Schedule A Video Call Today
If you find working from home challenging, then book a session and let's set you up for success.
Want all my best tips and help to get used to this new situation minimizing distractions and improving your productivity?
Book your time today and start implementing new work strategies this week.
You Might Also Like These