5 Laws of Successful Career Branding
That Will Unleash Your Career
Successful career branding doesn't happen overnight or by mindlessly promoting the heck out of yourself.
Follow the 5 Laws of successful career branding, and you will see some fantastic results. You will build valuable connections and relationships. And you'll get more of the right job opportunities to help you unleash your full potential and have a fulfilling career.
My Story – A Quick Sneak Peek of How The 5 Laws Unfolded
Before we jump in and talk about successful career branding, let me give you a peek into my background. How I went from working in fashion and being laid off to getting to do talks, and keynotes, workshops, and seminars on personal leadership for job seekers, a topic, very close to my heart.
Somewhat of a 180° career change, some might say.
My journey, which has led me to sit here, writing this piece for you to read, all started back in 2010 when I faced the most challenging times of my life and hit an all-time low.
I was laid off and had no new job in sight, a broken relationship, hospitalized, and homeless. That was my reality back in the summer of 2010.
Back on My Feet
It took the better part of 10 months for me to get back on my feet again and bounce back from that.
During that time, I had developed a passion and interest in helping others avoid going through the things I had.
The only thing was, I had no idea how to spread my message and experiences. I had heard about blogging, but not being the techiest guy around, I didn't know where to start setting up a blog.
Somehow I did it anyway, in iWeb. An App Apple doesn't even have anymore. But, that's where I began writing about well-being and personal leadership as a job seeker. I did it with the hope that if my experiences could help just one other person not to go through the same things I did, then it would be worth sharing what I had learned from hitting rock-bottom.
Hadn't expected the things that happened next
Not long after launching my blog, I got a call from a journalist asking if I'd like to be part of an article he was writing about how it shouldn't be tabu getting fired since it happens to 50% of the population (in Denmark).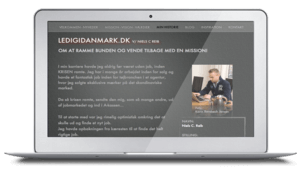 I told him; sure, I'd be part of your article, and if you can mention my blog in there somehow, then it would be great. He didn't promise me anything, which I understood with the very rough content that was on there, and the look of it wasn't some of my proudest work. But I started, and that's what counts.
The article hit the paper a month later. And from that came new opportunities and many visitors to the blog from all over Denmark.
From Zero to 500
I got invited to do a talk, something I said YES to do. I had just, for a moment, forgot that I hated to speak in front of large groups. But I survived that 2-hour talk in front of 30 people. Not long after, I got another opportunity to share my message, this time doing a 30-minute presentation in front of an audience of 500 job seekers.
From there, I went on to getting invitations to do workshops and seminars, and I ended up creating my job on my own! I became a speaker and an external consultant for different job centers and unions in Denmark.
Now I could go on, and on sharing more about the opportunities, I attracted, like getting meetings with high-end politicians (the Danish Secretary of Labour) and interviews on radio and TV.
But, I won't do that to you. I'd instead share how you can benefit from successful career branding.
I think you get it by now how powerful it can be to share something that creates value and inspires other people.
The 5 Laws of Successful Career Branding
Looking back on my journey, these five laws and steps listed below played a central part in how things have evolved. They all tie in together, and if you include these steps in your career, then you will see how powerful career branding is.
These laws aren't just going to help you establish your online career brand, but if you stick to them in everything you do in your job, it will also affect the work you get to do moving forward.
Here we go!
#1 Create Value
Have you ever disliked someone who shared something valuable with you? My guess is you haven't, and that's why law number one of successful career branding is to have a go-giver mindset creating value.
Be helpful where you can and always try to provide value to your online and offline surroundings.
Your strengths and natural talents combined with your passion, vision, personality, and experiences all set you apart from anyone else, and that's what makes you unique. Show how awesome you are, because you're you.
Share your experiences, knowledge, and what inspire you on your online platform and build your knowledge-base.
#2 Be Authentic
The most important part of your career brand is your authentic self. Being who you are will help people resonate with you, your content, and overall brand. When coming from a place of passion and interest, then you're more likely to get attention from individuals with the same interest.
#3 Attraction
Great things will begin to happen when you start sharing your knowledge. When providing authentic value, based on the content you create, you'll begin to attract more of the right people to you. And people with similar interests will start to connect with you through your profile on LinkedIn or by subscribing to your email list.
You are going to grow your professional network with people who have a genuine interest in what you have to say.
#4 Opportunity
Implementing the first three laws, creating value, being authentic, and the attraction will lead to more and better opportunities. The opportunities you'll get will align better with who you are as a person, and what you are most passionate about in your career. Therefore, your chances of landing jobs where you can do your best work will increase dramatically.
#5 Influence
Consistently sharing valuable and authentic content helps you to grow trust and connect with people, and eventually, you might become an influencer within your field.
As you can see, these five laws are all inter-dependent and feed off each other to create a successful career brand.
To Sum It All Up
The reason I got to do talks, workshops, seminars, interviews on radio and tv, and ended up becoming an influencer and spokesperson for job seekers was because I started sharing authentic and valuable content online. Doing that opened doors that I had never thought I'd walkthrough, and it has given me opportunities that otherwise never would have come my way.
That's what I want for you too!
The Overall Goal of Career Branding
The overall aim of career branding is to help you get to do what you enjoy doing the most. Because that's where you will be contributing and doing your best work, which will get you better job security, becoming an influencer would just be the icing on the cake.
That's what successful career branding can help you achieve.
If you want more inspiration like this, then drop your name and best email down below, then I'll make sure you get my best career and personal leadership tips in your inbox.
Get productivity and career inspiration in your inbox starting today.
Step 1
Schedule A Video Call
Get together with Niels, and discuss your career, your plans, and where you'd like to go next.
Step 2
A Strategy & Plan To Follow
Working with Niels, you'll get guidance and expertise to help you get the career you dream of.
Step 3
Get Longlasting Results
Having an authentic brand will help you attract the best career opportunities for years to come!.
Or… Schedule A Video Call Today
If you find working from home challenging, then book a session and let's set you up for success.
Want all my best tips and help to get used to this new situation minimizing distractions and improving your productivity?
Book your time today and start implementing new work strategies this week.
You Might Also Like These