- Are You Making This Mistake? -
When you brand yourself, and you are serious about building a strong personal career brand, then you don't want to make a mistake and rely on only Social Media. But a lot of people are doing it and making their personal brand very vulnerable because they don't consider this…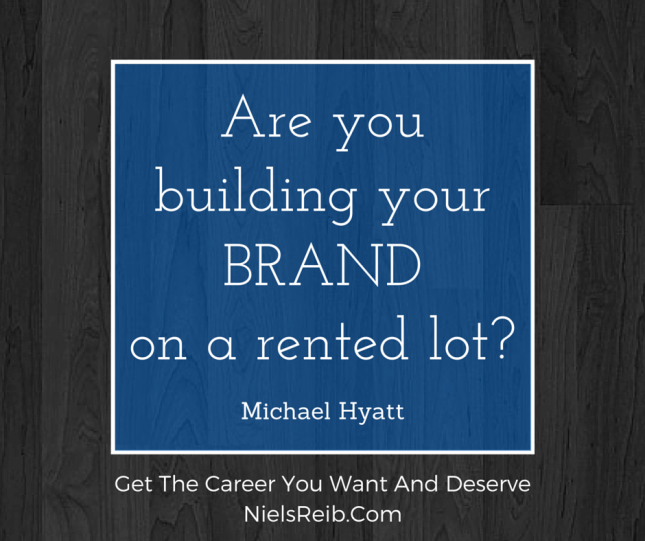 Are your brand based on any of these Social Media platforms:
LinkedIn
Instagram
Facebook
YouTube
Twitter
… or any other social media?
If so, then you've got a vulnerable brand.
Why?
Since big cooperations own all Social Media platforms, you don't have any control. You don't own anything you build on your Social Media profiles, everything you share and write on Social Media owned by the platforms you use.
If your profile gets hacked, blocked, or it disappears someday, then you'll have nothing to show for your online brand.
That's why I wouldn't rely on just having a LinkedIn profile to build my career brand. I have no control and don't know what, or where LinkedIn will be in 5-10 years. That simply makes it too vulnerable.
Be Serious When You Brand Yourself
The only way to take complete ownership of your online brand and name is to have a personal self-hosted website. That way, you'll be in full control and own everything you have on your domain.
Having a personal career website, and adding valuable content through blogging about your professional passions, will build a strong personal brand, and you'll have complete ownership of everything.
My advice to you is to buy your name as a domain (yourname.com). If the .com domain isn't available, then there are many other choices to go with like .me/ .org/ .net/ .expert/ .guru and more.
To find your domain and hosting, visit Bluehost.com, and register your domain today. The cost starts at less than $5 a month for both domain and hosting.
I'm not saying you should drop everything on Social Media because it's great to interact and build connections through Social Media. All I'm saying is you don't want to rely on having a LinkedIn profile to represent your career brand.
You want your career website to be your home base. Everything (or at least 80%) you do on Social Media should refer back to content on your website and use your Social Media profiles to add value and connect with people to build your network.
If you want more inspiration like this, then drop your name and best email down below, then I'll make sure you get my best career and personal leadership tips in your inbox.
Step 1
Schedule A Video Call
Get together with Niels, and discuss your career, your plans, and where you'd like to go next.
Step 2
A Strategy & Plan To Follow
Working with Niels, you'll get guidance and expertise to help you get the career you dream of.
Step 3
Get Longlasting Results
Having an authentic brand will help you attract the best career opportunities for years to come!.
Or… Schedule A Video Call Today
If you find working from home challenging, then book a session and let's set you up for success.
Want all my best tips and help to get used to this new situation minimizing distractions and improving your productivity?
Book your time today and start implementing new work strategies this week.
You Might Also Like These