3 Ways It Has Helped Me Achieve More
For years I've been on the look out for a planner and journal that would meet my needs. I even created my own journal and used that for quiet some time, but, for me, that wasn't a durable solution. Recently I've tested the Full Focus Planner from Michael Hyatt.
The Power of Tracking Your Progress
Before I dive into my review of the Full Focus Planner, let me start by giving you a bit of background. Planning and reviewing my weeks is something I first started doing back in 2012 when reading Stephen Covey's bestseller '7 Habits of Highly Effective People'. But after a few years of creating my weekly planning sheets, it kind of fizzled out. Then I went back to just using my calendar I have on my phone. As a result, I stopped doing my weekly planning and reviews, which led drifting through life rather than being focused and intentional about the things I wanted to do.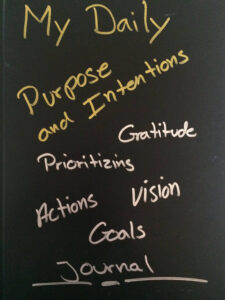 After drifting for a while (a couple of years), I created my own planner and journal with all the things I wanted it to include. I even set up a website to track my progress by committing to share my weekly reviews and takeaways on the site. It was pretty amazing to see how quickly my overall well-being increased, and momentum increased in different areas of my life as a result of my activities.
After about four months, I saw significant progress, and life was great! But once again, the inconvenience of having to manually fill out everything every morning and evening and doing the weekly reviews, it once again started to fizzle out, and I stopped tracking my progress.
That's how it's been for a couple of years. I've started a planner then stopped because of the inconvenience of doing it all myself. I've tried different printed planners and journals, but then they wouldn't have the aspects included that I know have worked for me, or the format just wouldn't be right, and I got stuck once again.
That all changed when I tried the Full Focus Planner.
The Full Focus Planner by Michael Hyatt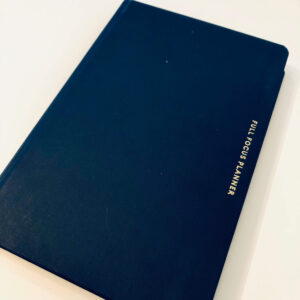 I've been following Michael Hyatt for years. I've read his books, Free To Focus, Living Forward, Your Best Year Ever, to name a few, taking some of his online courses, and part of one of his membership sites, and I consider him to be one of my virtual mentors. Being the leadership and productivity expert he is, and knowing how he works, I wanted to test and see if his Full Focus Planner would be a match for my planner needs.
After having used the Full Focus Planner for almost three months now, I can say I have found the planner solution I've been looking for for years!
Get your Full Focus Planner right here!
What I Like About The Full Focus Planner
It would be easy just to tell you like everything about the Full Focus Planner. But let me highlight what I LOVE about it.
The Format
I've tried various planners using different formats, and some have just been too bulky to carry with me. And, therefore, not great to use for taking notes on the go. The Full Focus Planner has the perfect format. It has a lay-flat back that makes the pages lay flat and smooth for you to add your notes, not having pages turn while you write. It's one of those little things which shows how well thought out the planner is.
The Layout
The layout of the Full Focus Planner is very well thought through. Its coaching users to stay on track with goals throughout the quarter and year. Each planner has a 90-day cycle, focusing on one quarter. But it has an overview of the entire year included in each planner as well, keeping the big picture in mind as you move along.
Goals Pages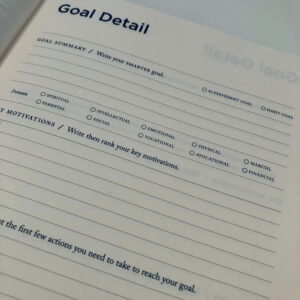 The first thing you find when you open the Full Focus Planner is an annual goals page where you can write ten big goals you have for the year. Next to each of the goals, you'll find a collum to note which quarter you want to fulfill your goal, giving you an excellent overview of your goals for the coming year and when you want to give focus on each of them.
The next thing you'll find, which I really like, is an entire page for each of your ten goals. These pages help you clarify why the goal is essential for you to reach, which immediate next steps of action you can take to get the ball rolling, and last, what your reward for reaching your goal will be. Another thing I like about these goal detail pages is that they help you focus your goals in 10 different domains of your life, making it easy to see if your goals are too career-focused instead of mixing it up a bit.
Daily Pages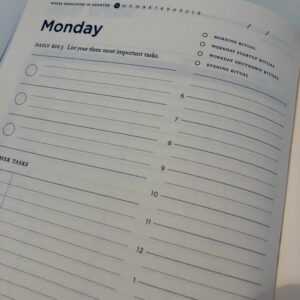 To me, the daily pages in the Full Focus Planner have everything you need. They have all your daily activities easy to comprehend at a glans, including your daily task list and schedule and the three most important tasks of the day that will get you closer to reaching your quarterly goals.
Half of the daily pages spread is for notes. I use that page for setting my daily intentions and as my journal reflecting on each day before I go to bed.
One thing I've added to my planner is daily scores, which, at the end of the week when added up, gives me an excellent overview of how my week has been. Doing this gives me a clear indication of how the week has been. Sometimes we have a tendency to give too much focus to the bad days, but by scoring each day and adding them up every week has surprised me at times on a positive note and therefore not letting one bad day during the week get too much focus as I do my weekly review.
Weekly Preview Pages
Prioritizing to set aside time to plan your week will help you gain clarity and give you a head start to your week before it begins. I usually spend time on Sunday to prepare for the coming week. That includes looking back at the previous week, adding my scores, and looking at my most significant wins of the week.
The Full Focus Planner helps you do that too. By having weekly reflections like your biggest wins, what worked and what didn't, what you need to change or stop doing it helps you fine-tune your upcoming week by becoming aware of things which otherwise you might just keep doing.
Quarterly Preview
The quarterly preview page is pretty much set up as the weekly preview pages helping you reflect on your progress of the previous three months, helping you prepare for success in the coming quarter.
Get your Full Focus Planner right here!
Two Cool Productivity Hacks Included In The Full Focus Planner
A couple of years ago, I was introduced by a concept Michael Hyatt call the 'perfect week,' and being a solopreneur working from home, I was intrigued by the idea, and I've been trying to use it as a go-to when planning my weeks. Michael included the perfect week framework in the Full Focus Planner, and it gives you a great tool to create a clear vision of how 'a perfect week' would look in your book, helping you be as productive and effective as possible.
Working From Home? Then This Can Be Helpful!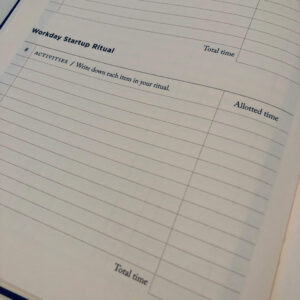 Introducing a new concept in the planner, at least to me, is the daily workday start and end routine. Working from home, I think it's a great idea to have those, and it's something I haven't thought of until I got the Full Focus Planner.
For me, going to work for is heading up the stairs to my office, and going home is 15 steps going in the opposite direction. Creating an intentional habit to kickstart my workday, has helped me become more productive. Because once I've gone through my workday startup routine, I'm focused on the tasks ahead, not having to check my email, social media, and other potential distractions for the next couple of hours.
Heading "home" and down the stairs, from the office, it's easy to stay in that work mode. But setting up a routine knowing once you've gone through the steps you chose to set up, you'll be ready to close down the workday and enjoy your evening being present with the family, not thinking about work.
My friend Matt Ragland has made this excellent walk-through of the Full Focus Planner that I recommend you watch.
Get your Full Focus Planner right here!
3 Ways The Full Focus Planner Has Helped Me Achieve More
Because I've been more intentional about how I show up every day, I'm hitting the goals I've set out to reach, my energy levels are higher, and it has affected my overall well-being.
By focusing on my morning and evening routines helped me finishing six books in three months because reading is part of those routines. Reading in the morning and evening goes towards my annual goal of reading 15 books in 2020. I'll surpass that by nine if I can keep up my morning and evening routines, giving me new input and growth ideas to keep improving myself personally and professionally, as well as ways to serve you better.
Clarity On My Goals
Because of the way Michael Hyatt has set up the goals section of the Full Focus Planner, it helps you get gain clarity on your most important goals of the year and quarter. Having the goals pages set up as they help you not just set your goal, but it also enables you to connect with why the goals are essential for you to attain and think about the first steps to take to get the process of reaching the goal started.
I also like that they want to write the reward you'll treat yourself to when you reach your goal. That's is something I've never been particularly good at remembering.
Laser-Sharp Focus
Before I got the Full Focus Planner, I had what I call my quarterly big three limiting the goals I'm working on to three big goals every quarter. This quarter it's been two habit goals, healthy living and implementing my morning/evening routines. Finishing the draft of my first book and having had the help from the Full Focus Planner it's increased my focus, leading me to finally finish my book draft, which I've been working on for a few years on and off.
The focus I've had, thanks to the daily big three, has helped keep my most important goals top of mind. Every. Single. Day.
Building Momentum
Making the kind of progress I've made in the last three months has helped build momentum, not only towards the goals I'm focusing on but in other areas of my life as well. I've been much more productive these past three months than I have in a long time, and it makes me want to keep it up!
Get your Full Focus Planner right here!
Final Thoughts
All in all, the Full Focus Planner has taken my focus, productivity, and general well-being to a higher level, and it can do the same for you.
I just got four new planners in the mail the other day, setting myself up for a successful 2020 by keeping the Full Focus Planner as my productivity companion. You don't have to get four, start with one and see how it works out for you, that's what I did.
If you haven't found a planner that works yet, then try the Full Focus Planner. All I can say is that I'm all in and hooked!
Get productivity and career inspiration in your inbox starting today.
Step 1
Schedule A Video Call
Get together with Niels, and discuss your career, your plans, and where you'd like to go next.
Step 2
A Strategy & Plan To Follow
Working with Niels, you'll get guidance and expertise to help you get the career you dream of.
Step 3
Get Longlasting Results
Having an authentic brand will help you attract the best career opportunities for years to come!.
Or… Schedule A Video Call Today
You can get help to become more productive and to position yourself so you'll get that dream job you deserve. if you want help, then go ahead and book a no-strings-attached call and see if we're a fit to be working together.
Book your time today!
You Might Also Like These