Ready To SuperCharge Your LinkedIn Presence
… And Attract More Connections, Leads And Opportunities?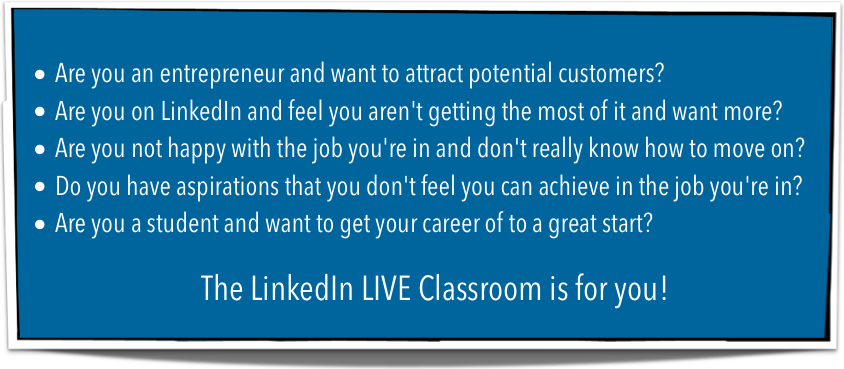 The Next LinkedLIVE Classroom Begins In
Only 15 Spots Available In Each Class
In order to give each attendee the best attention during the 2-week crash course, I've chosen to keep the seats to the LinkedLIVE Classroom as low as possible, to give you the best experience and the most out of the course.
If you want to build your presence and attract more career opportunities through the worlds largest professional networking site, then you shouldn't think too long about grabbing your seat.
With 15 spots in every class, they will go fast.
Reserve your spot today!
Week 1 ⎮ Build Your Presence
Why LinkedIn is so important to your business & career
Your Professional Headline
Your Summary
Your LinkedIn CV
The Special Sauce
Week 2 ⎮ Build Your Tribe
How to find new connections
How to connect like a PRO!
How to build your connections in to relations
What to do to supercharge your brand on LinkedIn
Set you up for LinkedIn success
LinkedIn Will Open The Doors For You!
If it had't been for LinkedIn, then I never would have been able to connect and build the relationships, which made it possible for me to do the many things I've done. And that, in an industry I had no background in.
Through out this 2-week crash course, I'll share my strategies and knowledge, so you can leverage your presence on LinkedIn.
Let's do this!
I'm looking forward to seeing you on the webinars and especially on the 1-on-1 sessions, where you and I will work on optimizing your professional LinkedIn profile and presence together.
The Next LinkedLIVE Begins In
Reserve Your Spot Today!