Hi I'm Niels Reib
I'm a Mentor, Speaker, and Career Branding Specialist. I help Professionals attract the career they want and deserve through Career Branding, so they can unleash their full potential and live a more fulfilled life, doing what they love with less stress and more to give to the people around them.
I'm the host of The Career Branding Summit, a five-day annual online event designed to help career-minded professionals like you develop and your career and brand based on your strongest skills, natural talent, and passion. I've been fortunate to interview people like Simon Sinek, Bob Burg, Janet Attwood, Eric EdMeades, and many other inspiring experts help you get the career you want and deserve.
My Goal And Mission!
It's very simple and straightforward. My goal is to help you attract the kind of career opportunities, that'll help you do the things you feel passionate about and motivates you.
I believe, when you get to do what you love in your career, based on your talent, vision, and core values, then you're more likely to be fulfilled and able to give more of yourself to the people around you.
That's why I want to help you achieve just that, by attracting the career you want and deserve through Career Branding.
My Guiding Principles
To be successful in all aspects of life, I believe it's important that the things we do, are aligned with our values and principals.
1. I'm The Creative Factor Of My Life
To me, I'm the only one who can create the life and career that's right for me. That's why this principal inspired from Steven Covey's '7 Habits of Highly Effective People' is one of my primary guiding principles and driver in the things that I do.
2. I Keep My Focus On The Things I Can Take Action Upon
If your focus is on all the things you can't control and take action upon, then you're soon going to be a victim of your circumstances. I don't give much thought to things I can't influence. It's amazing what kind of results you can achieve if you keep your focus on the things you can take action on and actually do something about.
3. I Need To Feel Great To Perform At My Best
If I don't take care of myself in a way that makes me feel good doing the things that I do, then I might as well not do it. Because if I don't feel great, I'm not going do my best work or be the best version of myself to present to people around me.
4. There's No Success Without Failures – Go For It!
No one has ever succeeded without making some failures along the way.
I've done my share and learned from them, and that's what'll help me succeed in doing the things I set out to do.
So, if you want to succeed, which I believe you do otherwise you wouldn't be here, then you need to let go of the fear of failure and keep moving forward towards your goals and vision for your life. 
A Peek Backstage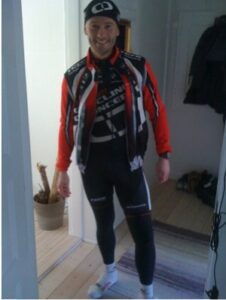 When I'm not working on the things I love to do and preparing the great stuff I've got planned for the future, I spend time with people that are most important to me. I love going out on my road bike to the countryside north of Copenhagen, and just enjoy the beautiful scenery, taking in some great fresh air and being present in the moment, while I pedal away.
The Backstory – The Reason Why I Do What I Do
Just a few years ago I went through the toughest time of my life; some would call it a personal crisis, today I'd call it a long overdue paradigm shift I needed, to get focused and reaching for the life I was made to live.
It all started when I got laid off from what I, back then, considered being my dream job.
The worldwide financial crisis was full-blown, and like so many other companies, the agency I was working in was hit hard by it. All of a sudden I was out of a job and I had no clue what I wanted. In the following months, my world came crashing down. I was out of a job, got depressed, the relationship I was in ended, I got hospitalized and registered as homeless.
A New Beginning
It took almost a year for me to get back on my feet.
When I found a place to live, I began a journey of soul-searching looking for a deeper meaning in life. I spend time working intensely on Stephen Covey's '7 Habits of Highly Effective People', which turned things around for me. It was at this point when I got back on track; I started sharing my story.
Not knowing what I was doing, I set up a blog, and I began writing about the things I'd learned from being laid off and sidelined in the game we call the job market. The single goal I had launching my blog, was to hopefully inspire and motivate, at least one other person out there in the Danish cyberspace so that other people wouldn't have to go through the things I had.
That goal set me off on a journey that I had never thought or dreamt of. Suddenly I began receiving calls and emails from different Danish media's, asking if they could interview me on the situation in the Danish job market. I helped journalists get in touch with the job seekers reading my blog, articles were written about my story in newspapers, and I began to receive requests about doing some speaking engagements about my story and how I had changed things around. The speaking engagements led to doing workshops, and I got to work with the people I wanted to help motivate and inspire the most, the job seekers.
All these experiences that I've gotten since I began sharing my knowledge have now led me to want to share my Career Branding methods with you, so you can start attracting a new world of career opportunities and get the career you want and deserve.
I believe we as people perform at our absolute best when we are engaged and doing what we love to do. That is why I help professionals attract the career they want and deserve through Career Branding based on their strongest skills, natural talents, and passion, so they can unleash their full potential and live a more fulfilled life, doing what they love with less stress and more to give to the people around them.
-Niels Reib
Sign up and get my best tips to help you begin attracting new and better career opportunities based on your strongest skills, talents, and passion.